D-Link 10-Port Gigabit WebSmart PoE Switch, 8 PoE UTP 10/100/1000Mbit and 2 Combo SFP Ports
Product Code: DGS-1210-10P
Price:
$200.39
RRP $259.00
23% OFF
| | |
| --- | --- |
| 8-Port 10/100/1000M PoE with 2 Combo SFP Ports Web Smart Switch | 01 |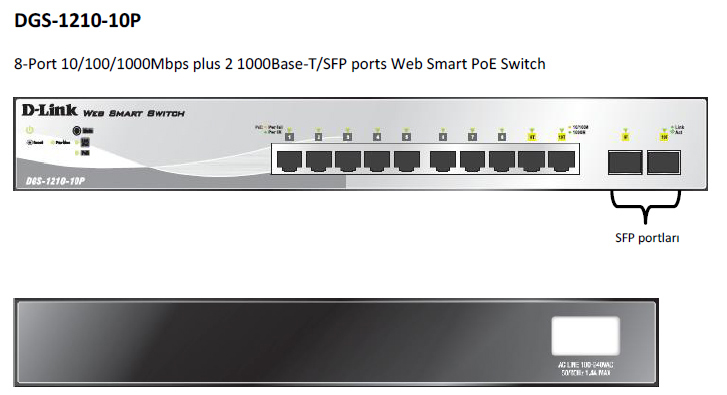 The 
8-Port 10/100/1000M PoE with 2 Combo SFP Ports Web Smart Switch
 from 
D-Link
integrates advanced management and security functions that provide performance and scalability. The switch features 10/100/1000 Mb/s ports, which are PoE-enabled. It offers ease-of-use and Green features like time-based PoE, which allows for the power to be shut off at a predetermined time, and Green Technology that saves power by detecting link status and cable length. Compliant with 802.3af and 802.3at Pre-Standard, this switch is capable of feeding power to devices up to 30W. Management options for the switch include SNMP, Web Management, SmartConsole Utility, and Compact Command Lines. The switch also supports ACL filtering and D-Link's Safeguard Engine. It uses Auto Voice VLAN, ensuring high priority for voice traffic. The switch comes with a fanless design in a compact 13" desktop enclosure which allows for a quiet operation.
Incorporating D-Link Green technology, the DGS-1210 Series switches are capable of powersavingwithout sacrificing operational performance or functionality. Link status drasticallyreduces power consumption by automatically toggling ports without a link to sleep mode.The DGS-1210 Series takes the approach to green IT one step further by incorporating a specialchipset with advanced silicon technology for efficient use of energy
| | |
| --- | --- |
| Extensive Management and Layer 2 Features | 03 |
Equipped with a complete lineup of L2 features, the DGS-1210 Series includes IGMP snooping,port mirroring, spanning tree protocol and Link Aggregation Control Protocol (LACP). The IEEE802.3x flow control function allows servers to directly connect to the switch for fast, reliabledata transfers. At 2000 Mbps full duplex, the Gigabit ports provide high-speed data pipes toservers with minimum impact to data transfer fidelity. Network maintenance features includeloopback detection and cable diagnostics. Loopback detection is used to detect loops createdby a specific port and automatically shut down the affected port. The cable diagnostic feature,designed primarily for administrators and customer service representatives, can rapidly discovererrors and determine the cable quality, allowing hassle free diagnostics and maintenance.
The DGS-1210 Series supports Auto Surveillance VLAN (ASV), and Auto VoiceVLAN, which are best suited for VoIP and video surveillance deployments.Auto Surveillance VLAN is a new, industry-leading technology that theDGS-1210 Series Web Smart Switch provides. This technology consolidatesdata and surveillance video transmission through a single DGS-1210 Series,thus sparing businesses the expense of dedicated hardware and facilities.ASV also ensures the quality of real-time video for monitoring and controlwithout compromising the transmission of conventional network data.The Auto Voice VLAN technology enhances the VoIP service by automaticallyplacing voice traffic from an IP phone to an assigned VLAN. With higher priorityand individual VLAN, these features guarantee the quality and security of VoIPtraffic. The DSCP markings on Ethernet packets enable different levels of serviceto be assigned to network traffic. As a result, these voice and video packets takeprecedence over other packets. In addition, with bandwidth control, networkadministrators can reserve bandwidth for important functions that are higherpriority or require a larger bandwidth.
The DGS-1210 Series provides a D-Link Network Assistant Utility that enablesadministrators to remotely control their network down to the port level. TheD-Link network assistant utility allows customers to easily discover multipleD-Link Web Smart Switches within the same L2 network segment. Withthis utility, users do not need to change the IP address of their PC. It alsosimplifies the initial setup by taking switches, within the same L2 networksegment, that are connected to the user's PC, and displaying them on screenfor instant access. This allows extensive switch configuration and basic setupof discovered devices, including password changes and firmware upgrades.The DGS-1210 Series also supports D-View 6.0 and Compact Command LineInterface (CLI) through Telnet. D-View 6.0 is a network management system thatallows for the central management of critical network characteristics such asavailability, reliability, resilience, and security.
D-Link's innovative Safeguard Engine protects the switches against trafficflooding caused by virus attacks. The DGS-1210 Series supports 802.1X portbased authentication, allowing the network to be authenticated throughexternal RADIUS servers. In addition, the Access Control List (ACL) featureenhances network security and helps to protect the internal IT network. TheDGS-1210 Series includes ARP spoofing prevention, which protects fromattacks on the network that may allow an intruder to sniff data frames, modifytraffic, or bring traffic to a halt altogether by sending fake ARP messages. Toprevent ARP spoofing attacks, the switch uses packet control ACLs to blockinvalid packets that contain fake ARP messages. For added security, the DHCPserver screening feature routes DHCP server packets from user ports to preventunauthorized IP assignment.
The DGS-1210 Series comes with Ethernet and Gigabit copper ports capableof connecting to existing Cat5 twisted-pair cables. Additionally, withits 8/16/24/48 10/100/1000 Mbps plus four 1G SFP ports for the DGS-1210-20/28/52 models; plus two 1G SFP ports for the DGS-1210-10/10P and 24/4810/100/1000 Mbps PoE plus four 1G SFP ports for the DGS-1210-52MP/28P/52Pmodels, the switch can provide a more flexible solution for upstream ordownstream server connections.
| | |
| --- | --- |
| Switching Capacity | 20 GB/s |
| Additional Features | 2 x Combo Gigabit 10/100/1000Base-T/SFP. Green Technology. D-Link Safeguard Engine. VLAN Management. |
| Power Consumption | 14 W |
| Features | Green Technology, saving power up to 80% |
| Standards Compliance | IEEE 802.3 IEEE 802.3u IEEE 802.3ab IEEE 802.3x |
| Buffer Size | 512kb Mb |
| Quantity Ports | 10 |
| Ports | 8 x 10/100/1000 Mbps RJ45 2 x Gigabit SFP |
| Model | DGS-1210-10P |
| Packing Weight | 3200 g |
| Packing Width | 440 mm |
| Packing Depth | 320 mm |
| Packing Height | 100 mm |
| Package Type | BOX |
Be The First To Review This Product!
Help other Aurus Australia Pty Ltd users shop smarter by writing reviews for products you have purchased.