Peg Perego Ducati Hypercross 12V Electric Off-road Motorbike for 3+ Kids 2 Gears 12V/8Ah Battery
Product Code: IGMC0021
Price:
$926.93
RRP $1,099.00
16% OFF
| | |
| --- | --- |
| The off-road motorbike, Ducati style | 01 |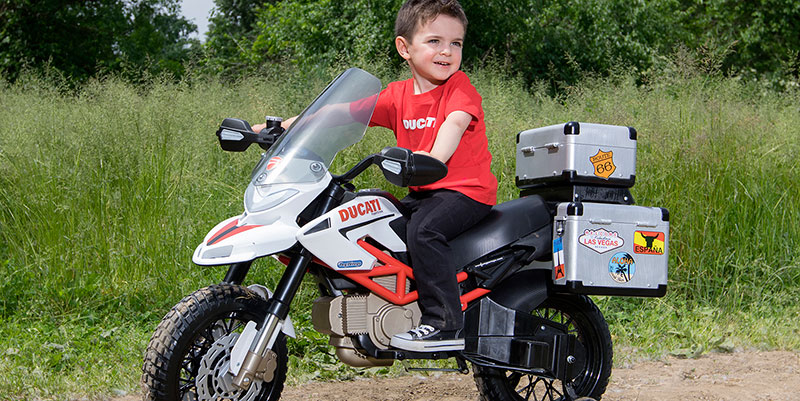 The new motorbike by Peg Perego Hypercross Ducati is simply spectacular. Agile and rich in details, the Ducati Hypercross is the 12 V electric motorbike for children age 3 and up which runs at a speed of nearly 8 km/h and offers unforgettable adventures, even on rough terrain. 
| | |
| --- | --- |
| Playing becomes a fantastic adventure! | 02 |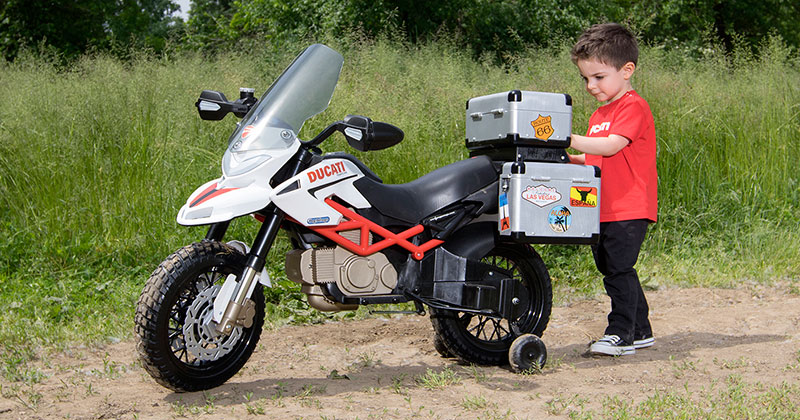 Just like a real motorcycle, Ducati Hypercross offers awesome thrills and is incredibly easy to ride! To accelerate, you turn the knob, to brake, you step on the brake lever behind the right footrest. The off-road rubber tread offers superior traction. 
| | |
| --- | --- |
| And a whole set of intriguing details! | 03 |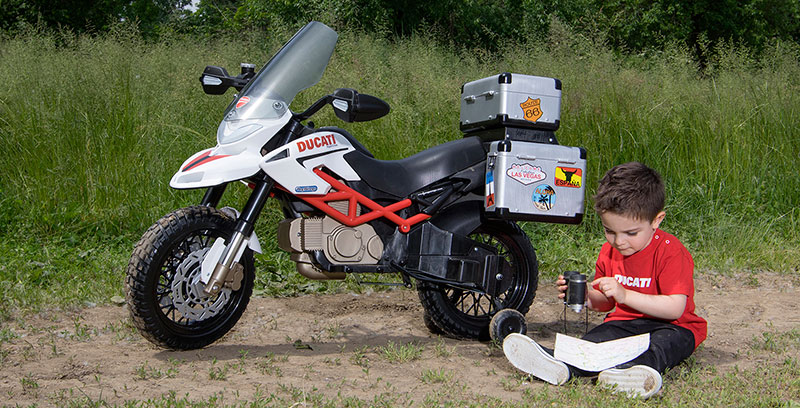 Unique with its countless stylistic details, such as the 
horn,
 the front headlight that reflects the light, giving the impression it is turned on, and the 
broad matt windshield: 
but there's more!
The
 3 side bags
 featured as standard make for an adventurous look; 2 are 
removable, 
to transport objects during your child's fantastic adventures. They can be
 decorated with the stickers
 included for a truly international look. And if something goes wrong, the
 main trunk contains a tool-kit 
to
 
fix any problem and start off again: 
screwdriver, hammer, wrench and ratchet.
| | |
| --- | --- |
| 2 speeds, lots of safety, sheer fun. | 04 |

Ducati Hypercross can travel at two speeds: fast or slow, you decide which by adjusting the button located on the side of the tank under the saddle. The motorbike is equipped with stabilising wheels (removable) that are ideal for young drivers who still need a bit of practice. The sturdy handlebar in lacquered iron ensures a firm grip when riding off-road. The knobs lined in non-slip rubber and the wraparound hand guards protect the fingers and hands even on their sides. 
| | |
| --- | --- |
| Extreme comfort and the details of a true motor-cross bike.  | 05 |

Ducati Hypercross is designed to be 
driven comfortably by all children:
 legs, arms and trunk have all the space they need, whatever their shape.
The large 
anatomical saddle
 is decorated with a "grip" effect.
The 
bare chassis, 
the 
large exhaust pipes,
 the engine and visually gripping decorations offer a realistic touch. The motorbike is equipped with a toy key-ignition. 
| | |
| --- | --- |
| Free to play on all terrains. | 06 |
The rubber wheels and the high chassis make the Ducati Hypercross remarkably flexible to take on all types of terrain, even the roughest ones. The front fork with core in rustproof treated iron guarantees long durability.
And to play safely, the certified Ducati helmet (sold separately) is the must-have accessory to protect your child and get him used to the rules of the road.
| | |
| --- | --- |
| The original Peg Perego accessories have been designed to optimise the use and performance of the product.  | 07 |

Certified Ducati helmet 
Your child will feel like the real racing driver when putting on the helmet. The Ducati safety helmet provides all the protection needed, with padding that complies with safety regulations.
Original spare battery.
Make the fun last longer with Peg Perego batteries!
A spare battery makes your toy efficient, offering maximum performance, longer duration and endless fun.
Original spare battery charger
A spare battery charger is the perfect idea for endless fun! You can leave it at the grandparents' house or in mum's bag, ready to use as needed.
Made-in-Peg Perego quality and safety.
The quality of Peg Perego products is reflected in the details that guarantee safety. Ducati Hypercross comes with a sealed base to protect the driver from electrical wires and tampering, and to protect the vehicle from water, mud and sand.
The 12V/8Ah battery, located in the compartment under the seat, is protected by a child-proof battery lock. The battery can be recharged using a common household socket, either in or out of the vehicle. Comes equipped with battery and battery charger.
Made in Italy and Made in Peg Perego Toys.
It's more than just a game to us!
| | |
| --- | --- |
| Specification | http://en.pegperego.com/toys/ducati-hypercross#product-details |
| Model | Ducati HyperCross |
| Type | Motorbike |
| Packing Weight | 20100 g |
| Material | Iron Polypropylene |
| Additional Features | Object holder: 3 rear hard top cases Anti-corrosion treated iron. PP polypropylene. PA polyamide. High-density PEHD. Great performance, even on hills and uneven terrain. Speed in 1st gear 3,8 km/h – 2,3 MPH Speed in 2nd gear 7,6 km/h – 4,7 MPH |
| Colour | Black/White |
| Age Level | 3+ |
| Gender | Boys & Girls |
| Number Of Gears | 2 |
| Packing Width | 1170 mm |
| Battery/Power | One 12V/8Ah sealed no-maintenance lead-acid battery, included in the packaging. |
| Packing Depth | 680 mm |
| Battery Charger | 1 x 12V battery charger, included in the packaging. |
| Packing Height | 395 mm |
| Wheels | Off-road rubber tread |
| Brake | Pedal |
| Battery Duration | 30 min |
| Engines | Two 165 W motor (330W total) |
| Maximum Transportable Weight | 30 kg |
| Package Type | BOX |
Be The First To Review This Product!
Help other Aurus Australia Pty Ltd users shop smarter by writing reviews for products you have purchased.