Peg Perego Electric off-road vehicle Gaucho Superpower Two 24v Ride On Car Boys
Product Code: IGOD0502
Price:
$1,870.00
RRP $2,229.00
16% OFF
| | |
| --- | --- |
| Powerful and fast, it knows no obstacles! | 01 |
Beautiful, powerful, manageable and super resistant! Gaucho Superpower has all that you could ask from an off-road vehicle. The electric off-road vehicle created for imaginative children aged 6 years and upwards who love adventures. The cog steering offers precise and safe steering, quality that only Gaucho can provide. The compartment is large and comfortable to encourage long term use. It functions with a 24 Volt rechargeable battery that moves two roaring 340W engines. 
| | |
| --- | --- |
| Super Power, super music, and super fun! | 02 |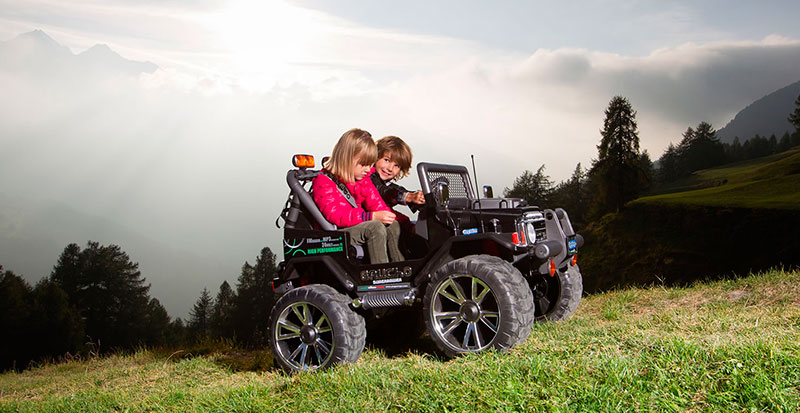 Gaucho Superpower can reach a maximum speed of 10 Km/h to the delight of older children. It is very comfortable and your child can also transport a travelling companion who can hold onto the handle on the dashboard on the passenger side if the going gets a little rough.
This fantastic off-road vehicle faces even the most uneven ground with ease with the real rear suspension that assures a comfortable ride even on mountain paths. The chassis height and the extreme traction wheels coated in EVA rubber (suitable for every type of terrain), will allow your child to power over every obstacle. Gaucho Superpower can also handle ascents of up to 17% and travel over the most uneven round such as holes, trenches and tree roots.
The seats can be adjusted into 3 different positions in line with your child's growth, and the padded covering makes them extra comfortable. The two adjustable safety belts offer excellent protection.
The steering wheel features an operational horn. The dashboard houses a real FM radio with a MP3 connection for your child's MP3 so all his adventures are accompanied by his favourite soundtrack. The radio can be removed and the convenient concealed handle makes transporting easy. When in standby, the display shows the time.
| | |
| --- | --- |
| Solid, secure and robust for years of fun. | 03 |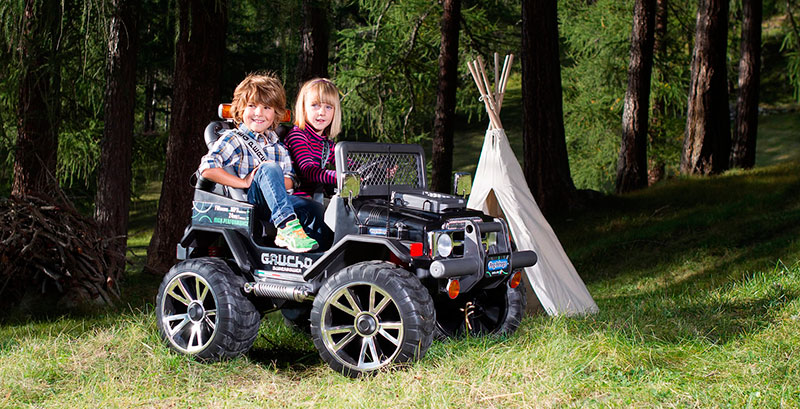 Gaucho Superpower offers the
 utmost safety: 4 large wheels 
on a very large chassis, 
adjustable seat belts
 that grow with your child, 
roll bar
 and 
robust mudguards
.
Gaucho Superpower is set into motion by 
pressing the accelerator pedal and gently pulls to a stop 
once your child releases his foot. Gaucho Super Power is equipped with a 
gear lever with two forward speeds and reverse. Second speed has a block 
used to impede use by inexperienced drivers.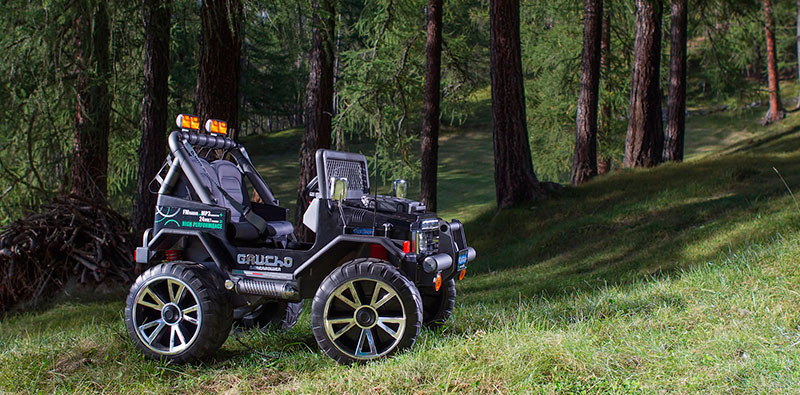 Gaucho Superpower is a sight to behold with its 
decorative chrome details
 such as the 
adjustable rear view mirrors, antenna, rims, grills
 and the powerful 
exhaust pipes
 that create a gutsy and unmistakable look.
Even the 
dashboard
 features many original and special decorative details: 
2 glove compartments
 (small boxes with flap opening), 
fake ignition key, air inlets that can be adjusted and instrument panel 
with protection. The look is completed with a 
reticulated wind shield, front bumper and fog lights
 mounted on the robust roll bar that look like they are really on. The 
rear net 
contains objects loaded behind the seats.
The bonnet houses the 
transportable tool box
 that contains hammer, pincers, wrench and two-headed screw driver. The bonnet can be opened to reveal an engine reproduction including many pipes and a large battery compartment below this. 
The Adventure Trailer 
(sold separately) is connected to Gaucho Superpower with ease for extra loading space. 
| | |
| --- | --- |
| Original Peg Perego accessories have been created to optimise the use and performance of the chosen product. | 05 |

Adventure Trailer
The trailer can be used to transport everything your child needs for fantastic adventures or to help mummy and daddy in the garden.
Battery and Battery Charger
Give your child the gift of fun that lasts for many more hours.
Made-in-Peg Perego quality and safety.
The quality of Peg Perego products is reflected in the details that guarantee safety. Gaucho Superpower features sealed base to protect the driver from electric wires;and tampering and to;protect the vehicle;from water, mud and sand.
The;24V/12Ah;battery is found in the compartment under the seat and has a;childproof battery lock. The battery can be;recharged using a standard household socket, directly from the vehicle or by removing it.Battery charger and battery come supplied.
Made in Italy and Made in Peg Perego Toys.
more than just a game to us!
| | |
| --- | --- |
| Model | Gaucho Superpower |
| Specification | http://en.pegperego.com/toys/gaucho-superpower#product-details |
| Type | Car |
| Material | Iron Polypropylene |
| Packing Weight | 53000 g |
| Additional Features | The bonnet can be opened and features a detailed engine reproduction. Portable FM Radio. Great performance even on slopes and uneven ground. |
| Colour | Black |
| Age Level | 6+ |
| Gender | Boys & Girls |
| Number Of Gears | 2+R |
| Battery/Power | 1 x 24V/12Ah sealed lead acid battery, no maintenance required, included in the pack |
| Packing Width | 1200 mm |
| Packing Depth | 950 mm |
| Battery Charger | 1 x 24V battery charger included. |
| Wheels | Rubber tread (EVA) |
| Packing Height | 680 mm |
| Brake | "All in one" with pedal accelerator/electric brake. |
| Battery Duration | 60 min |
| Engines | Two 340Wmotors (680W total). |
| Maximum Transportable Weight | 60 kg |
| Package Type | BOX |
Be The First To Review This Product!
Help other Aurus Australia Pty Ltd users shop smarter by writing reviews for products you have purchased.