Peg Perego Electric off-road vehicle Polaris Ranger RZR 24v Childrens Kids
Product Code: IGOD0516
Price:
$1,995.49
RRP $2,439.00
18% OFF
| | |
| --- | --- |
| When adventure gets tough, the tough start playing! | 01 |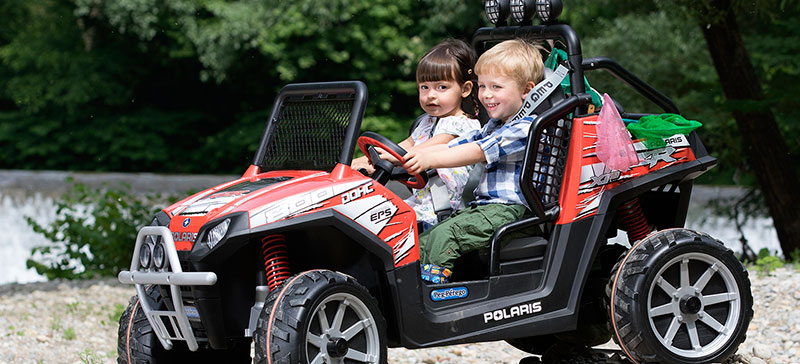 Renovated in the colors Polaris Ranger RZR is the powerful electric off-road vehicle for adventurous children aged 6 upwards. Lively and dynamic, Polaris Ranger RZR easily deals with the most inaccessible slopes and the most challenging tracks. Operating with a 24 Volt rechargeable battery, it is practical, manageable and easy to use with a solid and robust body for adventures without limit. 
| | |
| --- | --- |
| Maximum power adventures to music. | 02 |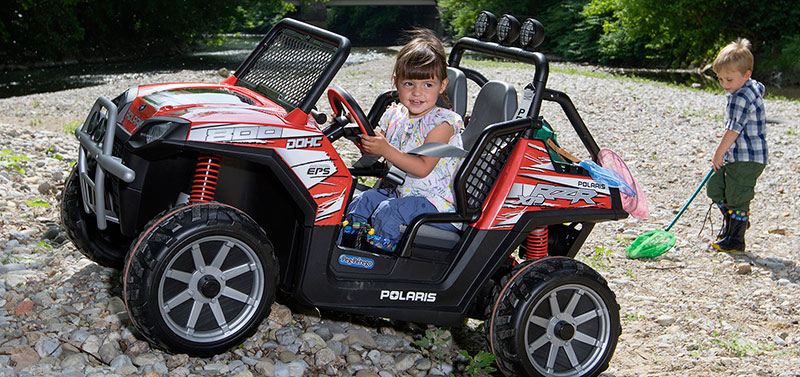 Driving Polaris Ranger RZR is great fun. With its great power, it can reach a 
maximum speed of 10 Km/h 
and your child can also take along a 
travelling companion
 who can hold onto the robust ergonomic hand grip when the going gets rough. The seats with 
high back rest
 offer the utmost comfort and can be adjusted into 
2 different positions
 in line with your child's growth.
To accompany the adventure, the well-equipped dashboard features a 
real operational FM radio, 
a
 connection for MP3s 
and a 
date and time display
. It is completed with a 
small object compartment
 that can also be used to store MP3s.
| | |
| --- | --- |
| Tireless on all terrain, even the most uneven. | 03 |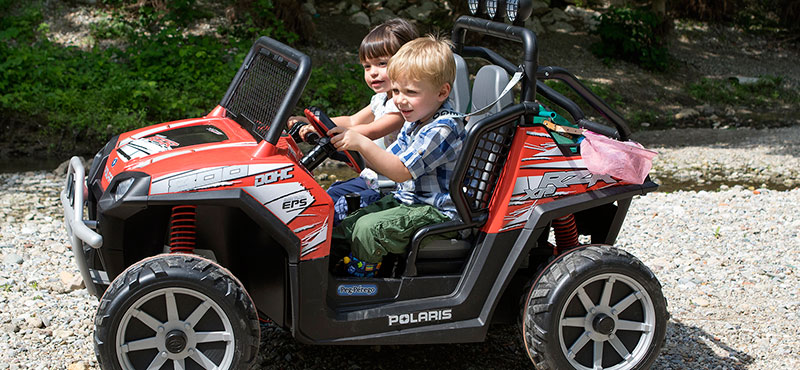 The features of Polaris Ranger RZR guarantee the utmost safety: adjustable seat belts that follows the occupant's growth, protection grills to the side of the seats, roll bar and robust mudguards. The special high traction tread wheels with a central strip made from patented rubber ensure perfect grip and allow the vehicle to face any obstacle. The rear suspension offers a more comfortable ride. The powerful wheels are suitable for any type of terrain, and can deal easily with slopes of up to 17% and uneven terrain such as holes, ditches and tree roots.
Polaris Ranger RZR is set into motion by pressing the accelerator pedal and gently pulls to a stop once your child releases his foot. The accelerator pedal has a speed block that allows parents to set a maximum speed for children who are still inexperienced drivers. The gear lever has 2 positions. In the vertical position the vehicle travels at low or high speed, and the forward position selects reverse.
It is completed with extra comfort accessories such as the 2 drink holders, one per passenger, and the spacious rear loader behind the seats for loading unearthed treasures. If treasures abound they can be loaded on the Adventure Trailer (sold separately) that connects easily to the Polaris RZR.
The gutsy look of Polaris Ranger RZR is enhanced by the fog lights mounted on the robust roll bar that reflect the light and seem to be switched on, the reticulated wind shield, the powerful bumper with 2 additional lights and the exposed suspension.
| | |
| --- | --- |
| Original Peg Perego accessories have been created to optimise the use and performance of the chosen product. | 04 |
Adventure Trailer
The trailer can be used to transport everything your child needs for fantastic adventures or to help mummy and daddy in the garden./p>
Original spare battery.
Make the fun last longer with Peg Perego batteries!
A spare battery makes your toy efficient, offering maximum performance, longer duration and endless fun.
Original spare battery charger
A spare battery charger is the perfect idea for endless fun! You can leave it at the grandparents' house or in mum's bag, ready to use as needed.
Made-in-Peg Perego quality and safety.
The quality of Peg Perego products is reflected in the details that guarantee safety. Polaris Ranger RZR features a sealed base to protect the driver from electric wires and tampering and to protect the vehicle from water, mud and sand.
The 24V/8Ah battery is found in the compartment under the seat and has a childproof battery lock. The battery can be recharged using a standard household socket, directly from the vehicle or by removing it. Battery charger and battery come supplied.
 
Made in Italy and Made in Peg Perego Toys.
It's more than just a game to us!
| | |
| --- | --- |
| Specification | http://en.pegperego.com/toys/polaris-ranger-rzr#product-details |
| Model | Polaris Ranger RZR |
| Type | Car |
| Material | Iron Polypropylene |
| Packing Weight | 54000 g |
| Additional Features | 4 high traction tread wheels with central synthetic rubber strip to improve grip Rear suspension, seat and seat belts can be adjusted FM radio/MP3 24 V of power and a maximum speed of 10 Km/h Modern and robust design Drinks holder. Rear loading unit. Great performance even on slopes and uneven ground Anti-corrosion treated iron. PP polypropylene PA polyamide High density PEHD polyethylene. |
| Colour | Red |
| Age Level | 6+ |
| Gender | Boys & Girls |
| Number Of Gears | 2+R |
| Battery/Power | 1 x 24V/8Ah sealed lead acid battery, no maintenance required, included in the pack |
| Packing Width | 1350 mm |
| Packing Depth | 940 mm |
| Battery Charger | 1 x 24V battery charger included |
| Packing Height | 710 mm |
| Wheels | Tread with PATENTED synthetic rubber strip |
| Brake | "All in one" with pedal accelerator/electric brake |
| Battery Duration | 45 min |
| Engines | Two 340W motors (680W total). |
| Maximum Transportable Weight | 60 kg |
| Package Type | BOX |
Be The First To Review This Product!
Help other Aurus Australia Pty Ltd users shop smarter by writing reviews for products you have purchased.