Peg Perego Electric Ride On Quad Corral Toys Electric T-Rex Off Road 12V
Product Code: IGOR0066
Price:
$592.70
RRP $709.00
16% OFF
| | |
| --- | --- |
| The ultra-modern version of the traditional Peg Perego model.  | 01 |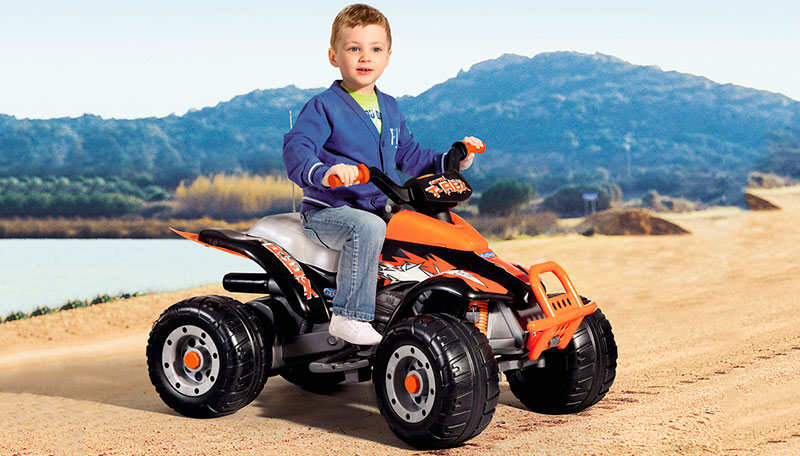 Corral T-Rex is one of the most traditional Peg Perego models and is still very popular thanks to the new modern version. This is an inimitable electric quad with 12 Volt rechargeable battery for children aged 3 and older, with a rounded, sinuous and gutsy design. Corral T-Rex is the off-road style quad with large wheels and a base that is raised off the ground allowing your child to travel safely off road. Ideal for real adventurers who love simplicity and the guarantee of a comfortable and safe ride.
| | |
| --- | --- |
| Make way for comfort, year after year. | 02 |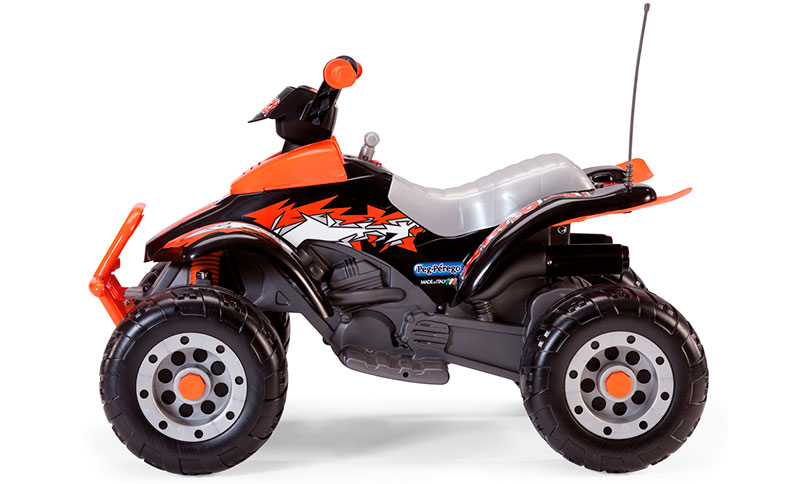 Corral T-Rex was designed so that you child can still drive it even when older. The large seat guarantees driving comfort for young and old alike. Corral T-Rex has a maximum speed of almost 7 Km/h and faces off-road conditions with ease thanks to its 4 large wheels, the front bumper that protects from accidental bumps and the mud guard that restricts spray. The rear flaps offer additional protection from dirt, make the body work look sleek and prevent scratching. The handles with an anti-slip design guarantee excellent hold of the handle bar even on uneven ground. 
| | |
| --- | --- |
| Gutsy details, sleek look, 3-position gears. | 03 |
Corral T-Rex has all it needs to keep your more adventurous child entertained. Its large footrests offer excellent support even when cornering. On the right is the accelerator that also works as a brake. The "All in One" Peg Perego technology makes Corral T-Rex extremely easy to drive. The accelerator pedal when released becomes a brake that automatically stops the vehicle in a gentle manner, with no sudden jolts. Driving is great fun using the 3 gears: 1-2 and Reverse. The highest speed can be blocked by parents using a safety lock until the child has learnt to command the vehicle. The gutsy vehicle is adorned with an antenna, two exhaust pipes, the embossed seat and the engine section. 
| | |
| --- | --- |
| Original Peg Perego accessories have been created to optimise the use and performance of the chosen product.  | 04 |

Helmet, integral helmet to play at being a real driver. Non-protective helmet.
Battery and Battery Charger
Give your child the gift of fun that lasts for many more hours.
Made in Peg Perego quality and safety.
The quality of Peg Perego products is reflected in the details that guarantee safety. Corral T-Rex features a sealed base to protect the driver from electric wires and tampering and to protect the vehicle from water, mud and sand. The 12V/8Ah battery is located in the unit under the seat and is protected by a child proof battery lock. The battery can be recharged using a household electrical socket, either whilst it is in the vehicle or after removal. Comes equipped with battery charger and battery. 
Made in Italy and Made in Peg Perego Toys.
more than just a game to us!
| | |
| --- | --- |
| Specification | http://en.pegperego.com/toys/corral-t-rex#product-details |
| Model | Corral T-Rex |
| Type | Quad |
| Packing Weight | 18600 g |
| Material | Iron Polypropylene |
| Additional Features | Great performance even on hills and uneven terrain. Anti-corrosion treated iron. PP polypropylene. PA polyamide. High density PEHD. Speed in 1st gear 3,4 km/h Speed in 2nd gear 6,7 km/h Speed in reverse 3,4 km/h Number of wheels: 4 |
| Colour | Orange |
| Gender | Boys & Girls |
| Age Level | 2+ |
| Number Of Gears | 2+reverse |
| Battery/Power | 1 x 12V/8Ah no-maintenance sealed lead acid battery, included in the packaging. |
| Packing Width | 990 mm |
| Battery Charger | 1 x 12V battery charger included in the packaging. |
| Packing Depth | 600 mm |
| Packing Height | 530 mm |
| Wheels | Grooved tread |
| Brake | "All in one" with accelerator pedal/electric brake. |
| Battery Duration | 33 min |
| Engines | Two 165 W motor (330W total) |
| Maximum Transportable Weight | 40 kg |
| Package Type | BOX |
Be The First To Review This Product!
Help other Aurus Australia Pty Ltd users shop smarter by writing reviews for products you have purchased.